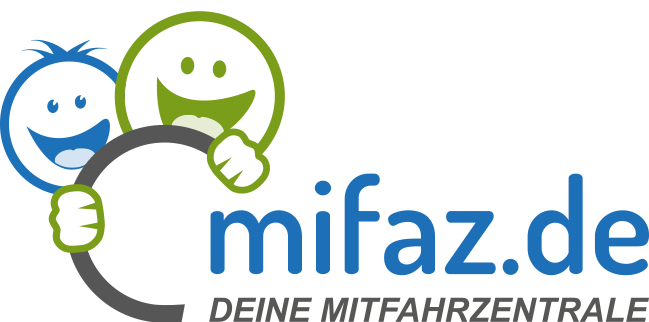 Passengers and commuters service - MiFaZ – Your Ride Sharing Community
Rising petrol prices, scarcity of local transport options in rural areas, CO2 emissions: plenty of reasons for giving ride-sharing some serious thought.
Commuters who drive daily about 25 kilometers can save about 50 Euros per month with car-sharing. A few mouse clicks is all it takes for anyone interested in car pooling to see available ride-sharing opportunities for your daily way to work, to training center or for a weekend trip. Or you can offer to share your car with others, possibly to organize occasional or regular rides within the Nuremberg Metropolitan Region as well as trips throughout Bavaria or even nationwide. www.metropolregion-nuernberg.mifaz.de
MiFaZ-App of the Nuremberg Metropolregion Region
With the new MiFaZ-App of the metropolitan region Nuremberg you also can find easily on your way. Simply download in the App Store or at Google play. After installation and registration you can give details about your way, time and weekday. On this occasion you can choose your city or county and immediately see who fits your search.
With the MiFaZ, participating municipalities and administrative districts have provided their residents with a new, free transportation alternative for more mobility since 2010. The MiFaZ represents an environmentally friendly complement to the local public transport. Particularly in areas without regular bus and train service, the Online-MiFaZ platform fills the gap perfectly. Therefore, the website´s home page also links to the options provided by the integrated public transport systems.
In addition to this regional Online-MiFaZ platform of the metropolitan region Nuremberg, you can use the car-sharing service by the websites of a lot of municipalities and administrative districts as following:
Weitere Mitfahrbörsen: bessermitfahren.de, fahrgemeinschaft.de, mitfahren.de, flinc, BlaBlaCar
Von unterwegs ganz problemlos eine Mitfahrgelegenheit finden? Viele der Mitfahrbörsen bieten im App Store oder bei Google play Apps für die mobile Nutzung per Handy oder Tablet an.
Metropolitan Region Nuremberg - One out of Eleven
Concentrated performance in the heart of Europe